Nepal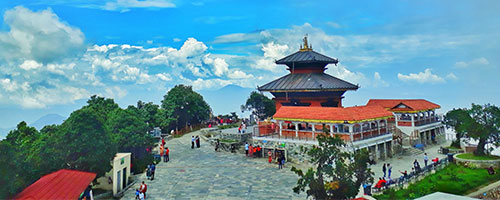 Kakarvita is the entrance point of Nepal from Siliguri. Bhadrapur is nearest airport in Nepal from Siliguri. Night Bus service from Kakarvita to Kathmandu takes around 14-16 hrs & no bus after 5pm.
The major attractions
Kathmandu
Kathmandu is the capital of Nepal. There are seven UNESCO World Heritage Sites in the valley, including many temples, monuments & Stupas. Pathupatinath (with two tierd golden roof and silver doors - one of the holiest shrines of Hindus), the stupa of Boudhanath, Swoyambunath Stupa and Patan City are major attractions of Kathmandu.
Nagrakot
Nagrakot Located 32 km to the east of Kathmandu on the valley. Nagarkot (2175m) provides a grandstand panorama of the Himalaya. Five of the world's 10 tallest mountains - Everest, Lhotse, Chooyu, Makalu & Manaslu and many other summits are visible from here. The snow peaks looks especially gorgeous during sunrise.
Pokhra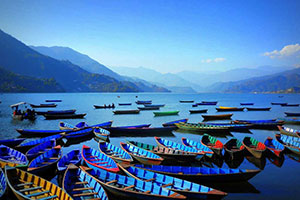 Pokhra is famous for its natural beauty, 200 km west of Kathmandu. Pokhara is known as the city of lakes. Pokhara is a place of remarkable natural beauty. The serenity of Phewa Lake and the agnificence of the Fishtail Peak rising behind it create an ambiance of peace and tranquility. It also offers a breathtaking view of the Annapurna, Dhaulagiri & Manaslu mountain ranges. Fishtail peak (6,977m), popularly known as Machhapuchhre, is a landmark. The Himalaya peaks & the lakes make Pokhara a magical place where you can relax while boating or fishing. It is also the starting point for treks to the Annapurna region.
Chitwan
Chitwan is located in south - central Nepal. The Royal Chitwan National Park (UNESCO heritage site) is a popular safari destination rich with flora & fauna. Animals found here include the rhino, tiger, wild elephant, antelope & hyena. It also provides ideal habitat for crocodiles, dolphins, cobras, kraits & pythons.