Kurseong - The land of white orchid
Kurseong, the land white orchid, is a perfect place for people who want to derive the pleasures of an alpine surrounding. Due to heavy rain fall at the place, it often compared with Cherapunji of Meghalaya. The natural beauty of Kurseong has also attracted and inspired many famous personalities like Rabindranath Tagore, Netaji Subhash Chandra Bose and Sister Nivedita etc. The house where Netaji Subhash Chandra Bose stayed is still restored in Giddapahar, a few kilometers from Kurseong. The beautiful view of down the Siliguri reason is charming. Kurseong is connected to Siliguri by two alternative routes; one by Pankhabari route which very steep. The other road through Rongtong, Ghayabari, Mahanadi and Giddapahar which gives a breathtaking view of the natural backdrop. waterfalls cascading from the hills are added to the beauty in monsoon.
The major attractions
Ambootia Temple:This temple is located within the Ambootia Tea Estate area. It has an old temple thronged by many devotees.
Bhangzang Salamander Lake: At a short distance from Kurseong, it is a relatively unknown lake that shelters the most endangered species of salamanders.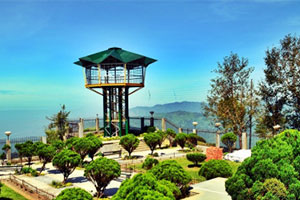 Bagora: Bagora is in the zero point being in highest elevation in Kurseong. It has a helipad and observatory camp of the Indian Air Force.
Eagle's Craig view point: This view point is located near the town is on a cliff. A sweeping view of the surrounding mountain, hill, terrains and slopes are sighted from here. From here magnificent view is available of the plains of Siliguri dotted landmarks in day time and bright small lights in the at night.
Giddapahar Seti Mata Temple: This temple is carved out of an ancient rock and is dedicated to Goddess Durga. A sacred place of the Hindus.