Adventure Tours
The north east India is an excellent destination for adventure tourism.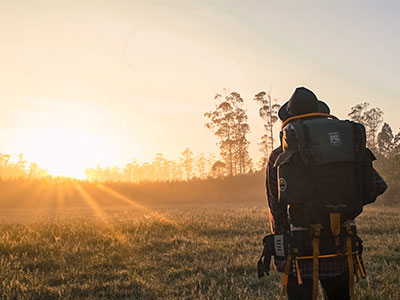 Its geographical diversity and pristine nature enables all tastes to be catered for. From the daunting Himalayan peaks in the north to the dense rain forests of Dooars, it is variety that is as bewildering as it is diverse.
The sheer thrill of trekking and pedaling along daunting mountain slopes, rafting along roaring river Teesta, climbing glaciers or camping in the pristine jungles is to be experienced to be believed.
Then there is the serenity of horse safaris or a trip on the mountain bike. You can also take a trip among the age-old monasteries on a mission of rediscovering yourself.
Himalayan peaks and slopes, with its dense tropical forests providing diverse fauna and flora provides you with the most exciting of sports and adventure imaginable. These facilities are available almost round the year and at very affordable prices.
In summer the focus is on the mountains, with their salubrious climate and breathtaking views, in winter it is the huge rain forests that attract the adventure lovers although both these locations have their attractions in the other seasons as well.
Destination Green has the following Adventure Tours in its catalogue.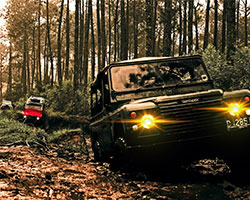 Jeep Safari
Safaris can be on jeeps, on two wheelers or on horseback. Although jeep safari are more common, horse safaris and motorbike safaris are becoming more and more popular in parts of Darjeeling and Sikkim. You are taken through thickly wooded hills and colourful villages in these trips.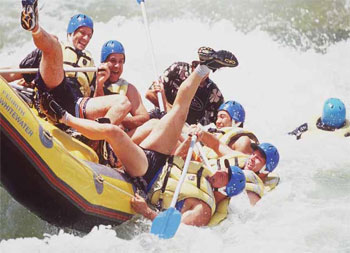 Rafting
Rafting in Teesta you could always take time off from your trek to dip in the raging rapids of the Tista. Rafting here is safe yet sizzling. Nine to twelve rafters can sit in a raft which is a long inflatable rubber dinghy. The accessories include, life saving equipment, oars and sometimes a safety kayaker who follows the raft.
Following are some are the rafting tours conducted by us.(Best time October – December)
On River Teesta (Makha – Sirwani – Bardang – Rangpo)
On River Rangeet (Sikip – Jorthang – Majitar – Melli)
Kayaking on River Teesta (specially arranged)
Treks
The main attraction of the summer months is trekking and camping. Trekkers with a reasonable degree of physical fitness, without any prior experience, can manage the altitude that ranges from 6000 to 16000 feet above sea level. The Himalayan foothills are ideal for jungle treks and camps throughout the year.
Trekking Routes in Sikkim / Darjeeling
MONASTIC TREK: ( March – May / October – December )
[Pemayangtse – Sangcholing – Khecheopalri – Dubdi – Sinon – Tashiding – Ralang]
RHODODENDRON TREK: (March – May)
[Naya Bazar – Hilley / Soreng – Varsey – Dentam – Pemayangtse]
KHANGCHENDZONGA TREK: (Mid March – Mid Jun / October – December )
[Yuksom – Bakhim – Tshokha – Dzongri – Thangsing / Bikbari – Zemthang / Chaurigang – Goechala / Rathong glacier and back]
CORONATION TREK: (October – December)
[Rumtek – Sang – Yangyang – Ravangla – Tashiding – Yuksom]
KHEDI TREK: (October – December)
[Assam Lingzey – Pa-shing Teng Kha (Base camp 1425m) – Chaukri Kharka – Do Bato – Khedi – Sela Pass (3150m) – Do Basto – Tal Kharka – Nubang – Passang Teng Kha]
SINGALILA TREK: (Mid May and October)
[Uttarey – Chewabhanjang – Dhor – Sikkim Megu – Dafey Bhir-Gomanthan / Boktok pandga – Theshyapla – Bikbari – Dzongri – Tsoka – Yuksom]
KOSTURI ORAR TREK: (Mid March – Mid June / October – December)
[Yuksom – Dzongri – Thangsing – Kostori Orar – Labdang – Sinon – Tashiding]
SAMARTEK TREK: (Mid March – Mid June / October – December)
[Kodong – Dokshing – Tsen Khong – Lenchok – Samartek – Pakchong – Kungo – Kuling Nae (Cave) Gungramgampo – Singhik Dak Bungalow]
RINCHENPONG / SORENG TREK: (April – June / October – December)
[Kaluk – Rinchenpong Dal Bungalow – Rigsum Gumpa – Kaluk – Sribadam Jhandi Dara – Soreng]
HIMALAYA TREK: (April – June / October – December)
[Manchi (Base camp) – Tendong – Damthang – Ravangla – Maenam – Bhaley Dhunga – Yangyang – Sinchuthang – Bermoik – Parbing – Namchi]
SANDHAKFU TREK: (Darjeeling Hills)
FALUT TREK : (Darjeeling Hills)
(Any part route trekking also conducted as per timing. Some treks are for amateurs and some for professionals.)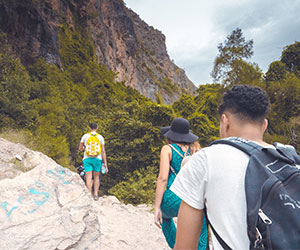 Camping
The region is ideal for camping. The purpose and fun of camping varies from student nature camp to more thrilling adventure camp and others. The options are unlimited. Destination Green conducts camps on a regular basis for its guests.
Jungle Tour
The Darjeeling, Dooars and Sikkim region has some of the best and the most varied forests in India. It includes Tropical Moist Deciduous, Himalayan Moist Temperate, Himalayan Dry Temperate, Tropical Semi Evergreen, Tropical Dry Deciduous, Subtropical Broadleaved Hill, Subtropical Pine forests.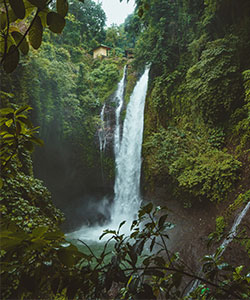 The state of Sikkim has a recorded forest area of 265,000 hectares constituting 37.34 per cent of the geographic area of the state. West Bengal has forest cover of 1.19 million ha, much of which is in the Darjeeling and Dooars region.
With such wide and varied forest cover, the region is also home to a large variety of fauna. The animals in the forest include Rhino, Tiger, Leopard, different varieties of Deer, Gaur, Monkey, Bear, the Himalayan red panda and countless other species and subspecies of birds, reptiles and animals. Gorumara Watch tower

In the Darjeeling and Dooars region, there is a tiger reserve at Buxa, wild life sanctuaries at Jaldapara and Mahananda, National parks at Gorumara, Neora Valley and Singalila. Sikkim has Kanchenjunga National Park and five wildlife sanctuaries.
We also offer Yak Safaris in the following areas. Yak Safaris are a great experience one you will remember for a while.