Buxa Tiger Reserve Forest
It is situated in the of Alipurduar, Jalpaiguri district, the north eastern corner of West Bengal, surrounded by Bhutan and Assam. It is declared a National Park in Jan'1992. The name of the reserve forest has been derived from Buxa Fort. The historical fort is on the Sinchulla Range guarding the most important routes to Bhutan. This was said to be used for detainees during freedom movement of India. The fort is recently opened for tourists. Due to inaccessible terrain some parts of Buxa in the Sinchula range are yet unexplored. The huge picturesque reserved area is with extraordinary surroundings of Terai as well as Hilly landscape and fairy rivers represents a breathtaking landscape.
Major Area of Interest in Buxa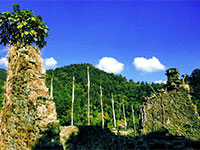 Buxa fort
There are several trek routes to/from Buxa. Some of them are, Santrabari to Buxaduar. A 5 kms trek through the dense forested hills leads to Buxaduar Forest Bungalow. Trekkers can be accommodated here. A 4 kms trek through the forest track leads to the Rover's Point-the land of unknown birds (around 4500ft). The journey through the entire region is full of adventure with breathtaking views of Jayanti River valley below.


Jayanti & Rajabhatkhawa
It is nearing the Bhutan border along the side of the river Jayanti forming a natural border. Buxaduar to Jayanti is a popular trek in the region. A 13 kms trek passes through the dense forest of Buxa Tiger Reserve. The journey ends at the Mahakal cave. The downhill trek from here leads to Jayanti Forest Bungalow. The place Rajabhatkhawa is only 12 kms from Jayanti surrounded by dense forests of Buxa tiger reserve and a place for the wild life lovers. A watchtower is situated deep inside the forest to view elephant, bison, tiger and other animals in its lad of nature.