East Sikkim
The capital city of Sikkim is Gangtok, situated in East Sikkim.
The Famous Travel spots are :
Located on a hilltop above Gangtok this monastery rebuilt in 1910 belongs to the Nyingmapa orderand was once the hermitage site of Lama Drupthob Karpo renowned for his power of flying. An important seat of the Nyingma order, the Enchey Monastery meaning the Solitary temple, was originally built with the solace that no other construction would be allowed near it is built on the site blessed by Lama Druptob Karpo, a tantric master known for his flying powers. Every year around January 'Chaam' or religious masked dance is performed with great fanfare for two days. it is situated 3 kms from Gangtok Town.
White Hall, Close by the White Memorial Hall and just below the Palace Ridge park is the more recent Flower Show Hall. In recent years this show has become quite popular and famous as there are flower exhibitions throughout the year in accordance with the seasons and the flowers in bloom.
Note - closed on Sundays, all government declared holidays, second Saturdays and the odd unforeseen holidays.
It is now known as the Directorate of Handicrafts and Handlooms as well as the Government Institute of Cottage Industries(GICI). Started during the time of the Chogyals of Sikkim, as a venture to preserve, protect and propagate the authentic Sikkimese arts, handicrafts and skills of local and village artisans, it has become one of the major attractions for people visiting Sikkim where beautiful souvenirs like carpets, hand carved tables (choktses), traditional handcrafts, furniture, handlooms carpets and other products are produced & exhibited for sale.
Encircled by 108 prayer wheels built by late Trulsi Rimpoche in 1945-46. This is one of the most important and biggest stupas found in Sikkim.
The Do-Drul Chorten or Stupa was built by the venerable Trulshi Rimpoche, head of the Nyingma order of Tibetan Buddhism in 1945. Inside this stupa, there are complete mandala sets of Dorjee Phurba (Bajra Kilaya), a set of Kan-gyur relics (Holy Books), complete 'Zung' (mantras) and other religious objects. Around this Chorten, which is one of the most important stupas in Sikkim, are 10 Mani-Lhakor (prayer wheels). These prayer wheels are turned by the devout Buddhist while chanting "Hail to the jewel in the Lotus", to invoke the Buddhisattva. The Chorten is surrounded by Chorten Lakhang, where there are two huge statues of Guru Rimpoche (Guru Padmasambhava).
This internationally acclaimed centre of Tibetan Studies & Research houses a vast collection of rare Buddhist books, manuscripts and over 200 Buddhist icons.
About a kilometer downhill from the main market of Gangtok, amidst a small forest of oak, magnolia and birch trees stands the Institute of Tibetology. It has one of the world's largest collection of books and rare manuscripts on the subject of Mahayana Buddhism plus many religious works of art and incredibly finely executed silk embroidered thangkas.
Distance - 24 km ( from Gangtok )
Built in 1960 by His Holiness the late 16th Gyalwa Karmapa it is a replica of the original Kagyurpa Monastery in Tsurphu, Tibet, the seat of His Holiness the Gyalwa Karmapa Rinpoche, head of the Karmapa sub sect of Kargyudpa order of Tibetan Buddhism. It now functions as the headquarters of the Dharma Chakra Religious Centre.
Located within the complex are the main monastery, the memorial stupa of the XVI Gyalwa Karmapa inlaid with gold plate and semi precious stones, Shri Nalanda Institute for Higher Buddhist Studies and the Jamyang Khang Primary School. The centre houses some of the world's most unique religious scriptures, manuscripts and religious art objects.
A fifteen minute walk downhill from Dharma Chakra Center takes one to the Old Rumtek monastery which was originally built in 1730 by the ninth Karmapa but was destroyed by fire and had to be reconstructed to the present state. His Holiness late Gyalwa Karmapa lived in this monastery till the completion of the Rumtek Dharma Chakra Center.
Located very close to Rumtek Monastery, the Garden is an enchanting and soothing experience among the lush green vegetation, rare plants and trees and certain species of Himalayan flowers and Orchids.
This garden is a mixture of well tended tropical and temperate plants and trees. A huge greenhouse containing many species of orchids has been constructed within the garden. For children there is even a small playground with a merry-go-round, swings and a see-saw. A cemented footpath winds its way through the garden and is good for taking a relaxed stroll. The sprawling town of Gangtok can be seen on the hill opposite.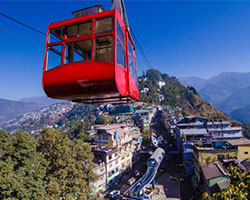 It takes passenger to the highest point of the city of Gangtok covering the distance of about 1 Km in only seven minutes. Each cabin accommodates 24 passengers. The lower terminal station is located at Deorali Market, the intermediate terminal at Nam Nang and the upper terminal station is below the Secretariat (Tashiling). One can truly enjoy the panoramic view and thrilling rise as the Ropeway goes over the city.

Distance - 14 km ( from Gangtok )
Also know as Ipecac Garden, the home of Sikkim's most exotic orchids and other rare tropical and temperate plants. Established and maintained by the Department of Forest, it is an excellent recreation and picnic spot. Besides Ipecac plant, this garden also contains a wide variety of other flora including numerous types of orchids and medicinal plants.
Distance - 16 km ( from Gangtok )
Water Garden at Martam Khola is on the 31-A National Highway south of Gangtok. It is an ideal spot for picnic with a small swimming pool for children.
Altitude - 6,500 ft.
It is a very small temple dedicated to Lord Ganesh, a deity worshipped by Hindus. The temple is so small in size that it can hardly accommodate one person and one has to crawl to get inside it. It is located on the hill adjoining the TV Tower. It is on a hillock on Gangtok-Nathula Road.
From here you can get a panoramic view of Gangtok town and the Raj Bhawan Complex and on a clear day you get a breathe taking view of Mt. Khangchendzonga. A walk on the footpath amongst the pine trees is refreshing.
It was built by the late King of Sikkim, Tashi Namgyal, it is situated 6 km from Gangtok town from where one can have a clear view of opposite hills. This site offers a breathtaking panorama of the majestic Mt. Khanchendzonga and surrounding hills. This place offers an astounding view of the Khangchendzonga snowy range on a clear day. On the opposite hill, the Phodong and the Labrang monasteries can be seen. A resting shed and a small cafeteria situated at Tashi View Point provides shelter and other amenities to the tourists.
Altitude - 7,200 ft.
Situated about 5 km uphill from White Hall on a bifurcation road of the Gangtok-Nathula Highway, is a temple devoted to Hanuman, a God worshipped by the Hindus. On selected points on the road to the temple, breathtaking views of Gangtok and the adjoining rolling hills can be seen.
One also gets a birds eye view of the Selep waterworks, which supplies drinking water to the Gangtok town, a few hundred feet in altitude below Hanuman Tok.
A short distance before the stair case leading to the Hanuman Temple is the cremation ground of the erstwhile royal family of Sikkim. The cremation ground has stupas and chortens each marking the place where the mortal remains of the departed souls were consigned to the flames.

The park is located exactly across the road opposite Ganesh Tok and covers an area of 205 hectares. This area is also known as Bulbuley and extends almost upto Hanuman Tok. Vehicles are not allowed inside.
There is a paved cement path that passes by fenced open air enclosures housing the red pandas, Barking Deer, bears and other animals of Sikkim in a semi natural habitat. As the enclosures encompass a huge area the animals are sometimes not easily visible and one has to be patient to get a sight of them. Making noise drives away the animals to take refuge behind bushes.
Distance - 25 km ( from Gangtok )
Altitude - 1280 - 2652 m
It has an area of 51.76 sq. km. The main vegetation is Oak, Katus, Kimbu, Champ with thick bamboo forests and ferns. The Sanctuary is also home to a large number of wild orchids, rhododendrons etc. This area is being developed as a short duration trekking trail.
Gonjang Monastery near Tashi View Point was established in the year 1981. Yhe founder is H.E. Tingkye Gonjang Rimpoche. He was recognized as an incarnation of Yolmo Terton Ngakchang Shakya Zangpro, a 15th century Nyingmapa Terton. The monastery follows Jangter tradition of Nyingmapa school of Tibetian Buddhism.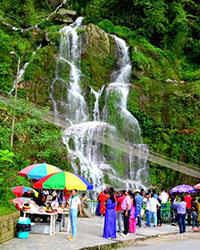 Bhakthang Water Falls is along the 31 A National Highway leading to North Sikkim. It originates from Ratey Chu, the main water source of Gangtok area.
Distance - 5 km ( from Gangtok )
It is a Tibetan refugee monastic institution established in 1961 by his Eminence Luding Khen Rimpoche, Head of Ngorpa, sub-sect of the Sakya Order, with the blessing of H.H. Sakya Trizin and H.H. the Dalai Lama. This is the only monastery of the Sakya Order of Tibetan Buddhism in Sikkim.
The Aritar Lake (Ghati-Tso) near Rhenock, about 3 hours drive from Gangtok, is worth visiting. In the peaceful & cool environment, trekker's huts & few lodges/private resorts are available. Lingsay Monastery and a Manghim can be visited. Other attractions are boating & a short trek in and around Aritar. A night spent in an old British Bunglow of 1885 located half a Km below the lake could be an enthralling experience.
Distance - 40 km / 2.5 hrs( from Gangtok )
Altitude - 12,210 ft
The lake is about 1 km long and oval in shape, 50ftdeep . This is an alpine zone and snowbound from December to April and the lake is regarded extremely Holy and head of all lakes in Sikkim and attracts 99% of tourists visiting Gangtok, Sikkim. It is also a home of Brahmini ducks besides stopover for various migratory ducks.
Tsomgo Lake is literally known as "source of the lake " in Bhutia language. Its on the Gangtok Nathu La highway. It falls in the restricted area and hence an inner line permit is required by Indians to visit this place. Foreign nationals are not permitted to visit this lake without special permission. A small temple of lord Siva is constructed on the lakeside.
Between May and August it is possible to see a variety of flowers in blooms, including the rhododendrons, various species of primulas, blue and yellow poppies, irises etc. It is also an ideal habitat for the red panda and various species of birds.
Built in the memory of Harbhajan Singh, a sepoy in the 23rd Punjab Regiment, the temple lies between the Nathu-La and the Jelep-La passes. Its said that he appeared in a dream a few days after he went missing while patrolling the border, and expressed a desire that a monument be built in his memory. His fellow soldiers then built a monument that has over the years acquired the status of pilgrimage centre. Believers leave a bottle of water, to be collected a week later to be used for its healing powers.
Distance - 54 km ( from Gangtok )
Altitude - 14790 ft.(4,392 m)
The pass Nathula means the whistling pass. Nathula is the Indo-China border at Jawahar Lal Nehru Road whereby Indian troops and the Red army stand face to face. This is the closest an Indian Tourist can travel and pose a photo or two with the Red Army.
Tourist visit in the area is restricted and needs to be applied at least 24 hrs in advance and limited days of operation. The days permitted to visit Nathula are Wednesday to Sundays. Photography is strictly prohibited in and around Nathula.
This is near to Nathula. Those who want to visit Nathula and could not met due to any reason, can visit this place. This is in the same region and almost similar to Nathula.